Guidelines for OMEGA Reviewers
General
The goal of OMEGA review process is to evaluate the accuracy and significance of the submitted manuscripts and to provide the authors with constructive and timely feedback.
All submissions are to be reviewed for overall fit according to the Aims and Scope of the Journal. Please see www.OmegaJournal.org/aims.html.
The Editor-in-Chief first screens all submissions.
It is OMEGA policy to use a single-blind review process by at least two referees. (i.e., referees know the names of the authors but authors do not know the names of the referees). The primary responsibility of the referees is to review the paper with respect to correctness and exposition. Referees are free to comment on whether the article fits well with the journal objectives but the Editor-In-Chief makes the ultimate decision on that.
OMEGA requests that all referees complete their reviews within 6 weeks in order to permit prompt feedback to the authors. Revised papers should be reviewed within 4 weeks.
Items to look for
Here are some items the reviewer should consider during the review process:
Does this manuscript make a substantial contribution to the literature?
Is the topic appropriate?
Is the literature review appropriate?
Is the paper intellectually stimulating?
Are the procedures, methods and data analysis appropriate?
Is the paper technically sound?
Should material be omitted or added?
Should material be moved to or from an appendix?
Is the paper clearly written?
Is there a concise abstract?
Is the grammar satisfactory?
Are the references complete?
Is the title appropriate?
Does the paper have applied value?
Referee Report (http://www.ees.elsevier.com/omega/default.asp) (you will need to login EES as a reviewer)
The referee report may contain two parts.
| | |
| --- | --- |
| · | The first part is to the Editor to be shared with the authors. |
| · | The second part is to the Editor only and will include candid recommendations and a summary judgment; this will not be shared with the authors. |
In the first part of your report please include:
Summary – include a short summary of the paper.
Major comments – list all changes you would like to see in the paper.
Minor comments – typos, length reduction, indicate whether you wish to see/no need to see the revised paper
Recommendation – Accept; minor revisions; major revisions; reject. Include the reasons for your recommendation
Please submit your report via EES. You may also upload a .doc or .pdf type files of your report.
The Editor-In-Chief wishes to gratefully acknowledge all those listed who have generously given of their time to referee the paper submitted to OMEGA. All members of the Editorial Advisory Board are expected to review papers, thus are not listed in the above list.
Acknowledgement to referees (From January 1, 2003 to September 12, 2003) click here
Acknowledgement to referees (From September 13, 2003 to September 24, 2004) click here
Acknowledgement to referees (From September 25, 2004 to July 26, 2005) click here
Acknowledgement to referees (From July 27, 2005 to May 4, 2006) click here
Acknowledgement to referees (From May 5, 2006 to March 15, 2007) click here
Acknowledgement to referees (From March 16, 2007 to March 31, 2008) click here
Acknowledgement to referees (From April 1, 2008 to July 24, 2009) click here
Acknowledgement to referees (From July 25, 2009 to May 23, 2010) click here
Acknowledgement to referees (From May 24, 2010 to May 3, 2011) click here
Acknowledgement to referees (From May 4, 2011 to July 8, 2012) click here
Acknowledgement to referees (From July 9, 2012 to May 1, 2013) click here
Acknowledgement to referees (From May 2, 2013 to July 13, 2014) click here
Acknowledgement to referees (From July 14, 2014 to September 1, 2015) click here
Acknowledgement to referees (From September 2, 2015 to November 1, 2016) click here
Acknowledgement to referees (From November 1, 2016 to September 30, 2017) click here
Acknowledgement to referees (From October 1, 2017 to XXX, 2017) click here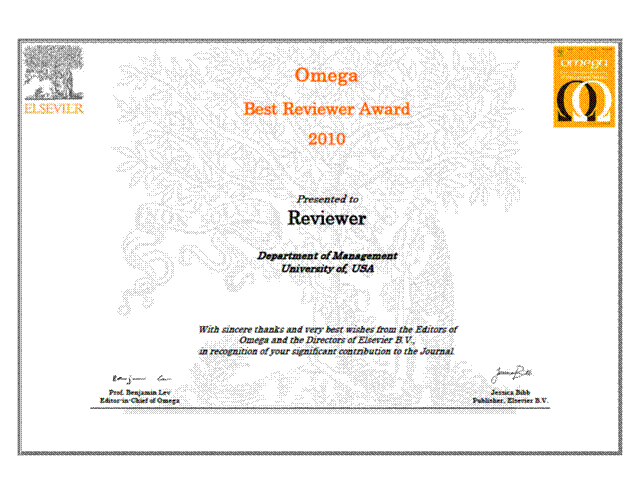 Best Reviewer Certificate for 2010
Prof. Necmi K Avkiran

The University of Queensland

Prof. Ismail Bakal

Middle East Technical University

Mehmet Candas

University of Texas at Austin

Prof. Yao Chen

University of Massachusetts at Lowell

Prof. Juan Du

University of Science and Technology of China

Prof. Marina A. Epelman

University of Michigan

Prof. Hirofumi Fukuyama

Fukuoka University

Prof. Jackie Griffin

Georgia Institute of Technology

Dr. Qinglong Gou

University of Science and Technology of China

Dr. Florian Jaehn

Universität Siegen

Prof. Laura Kornish

University of Colorado at Boulder

Prof. Bertrand M.T. Lin

National Chiao Tung University

Prof. Jeng-Jong Lin

Vanung University

Dr Chris Lo

The Hong Kong Polytechnic University

Prof. Louis Luangkesorn

University of Pittsburgh

Prof. Jeffrey Schaller

Eastern Connecticut State University

Prof. Stephan Wagner

Swiss Federal Institute of Technology

Dr. Renqian Zhang

Beihang University
Best Reviewer Certificate for 2011
Chien-Ming Chen
Nanyang Business School

Arun Chockalingam

Purdue University

Hepu Deng

RMIT University Melbourne

Andrew L. Johnson

Texas A&M

Sigrid Knust

University of Osnabrueck

Susan X. Li

Adelphi University

Nan Liu

Columbia University

Hamid Mamani

University of Washington

Ranga Muhandiramge

Monash University

Sophie Parragh

University of Vienna

Ruben Ruiz

Universidad Politcnica de Valencia

Wenjing Shen

Drexel University

Malgorzata Sterna

Poznan University of Technology

Doug Thomas

Penn State University

Yu (Amy) Xia

Northeastern University

Hao Zhang

USC

Qinghua Zhu

Dalian University of Technology
Best Reviewer Certificate for 2012
Prof. Jaap Bos

Maastricht University

Dr. Ozgun Caliskan Demirag

Penn State Erie

Prof. Luis C. Dias

Universidade de Coimbra

Prof. Stanislaw Gawiejnowicz

Adam Mickiewicz University

Prof. Michael C. Georgiadis
Aristotle University of Thessaloniki



Prof. Abhijit Gosavi

Missouri University of Science and Technology

Prof. Janis Grabis

Riga Technological University

Prof. Mohamad Y Jaber
Ryerson University

Dr. Dominik Kress

University of Siegen



Dr. Ivana Ljubic, University of Vienna

University of Vienna

Prof. Ole Bent Olesen

University of Southern Denmark

Ying Rong

Shanghai Jiao Tong University

Prof. Ming-Miin Yu

College of Maritime Science and Management


Dr. Yong Zha

University of Science and Technology of China
Best Reviewer Certificate for 2013
Deniz Aksen

Koç University

Jun He, Ph.D.
University of Michigan-Dearborn

Sameer Kumar
University of St. Thomas

Yongjun Li

University of Science & Technology of China

Zongmin Li

Sichuan University

Shiang-Tai Liu

Vanung University

Zhixin (Jason) Liu

University of Michigan-Dearborn

Jenny Nossack

University of Siegen

Umit Saglam

Drexel University

Yan Tu

Sichuan University


Rudolf Vetschera

University of Vienna

Don Warsing

North Carolina State University

Wann-Ming Wey

National Taipei University


Luis Zuluaga

Lehigh University


Best Reviewer Certificate for 2014
Claudia Archetti

University of Brescia

Eva Barrena

HEC Montreal

Ana Camanho

Universidade do Porto

Hirofumi Fukuyama

Fukuoka University

Yi Liao

Southwestern University of Finance and Economics

Stefan Minner

TUM School of Management

Maite Peña-Alcaraz

Massachusetts Institute of Technology

Francisco Ruiz-Aliseda

Ecole Polytechnique

Dvir Shabtay

Ben-Gurion University of the Negev

Paolo Tubertini

Università di Bologna

Zeshui Xu

Tsinghua University




Best Reviewer Certificate for 2015
Prof. Oben Ceryan
Drexel University
Dr. Abdullah Konak
Penn State Berks
Prof. Wen-Min Lu
National Defense University
Dr. Yazemin Merzifonluoglu
Middle East Technical University Northern Cyprus Campus
Prof. Chuljin Park
Hanyang University, Industrial Engineering
Professor Biresh K. Sahoo
Xavier University
Prof. Qiong Wang
University of Illinois at Urbana-Champaign
Prof. Wenhui Zhao
Shanghai Jiao Tong University
Best Reviewer Certificate for 2016
Professor Alireza Amirteimoori

Islamic Azad University

Prof. Metmet S Atlug

George Washington University

Professor Juan Aparicio

University Miguel Hernandez of Elche

Dr. Jason A.D. Atkin

University of Nottingham

Professor José M Cordero

Universidad de Extremadura

Prof. Mohammad Firouz

University of Alabama

Prof. Nick Freeman

University of Houston, Houston, TX, USA

Professor Marc Jegers

Free University of Brussels

Dr. Yue Jin

Nokia

Prof. Thomas Kalinowski

University of Newcastle

Professor Timo Kuosmanen

Aalto University School of Business

Dr. Jannik Matuschke

University of Technology Berlin

Dr. Esther Mohr

University of Mannheim

Dr. Michael Poss

LIRMM

Dr. Kabir Rustogi

University of Greenwich

Professor Xiaoyang Zhou
Shaanxi Normal University
Best Reviewer Certificate for 2017